Radio Rack Mount Construction
Our radio racks are manufactured using state-of-the-art CAD drawings, which results in precision machined panels.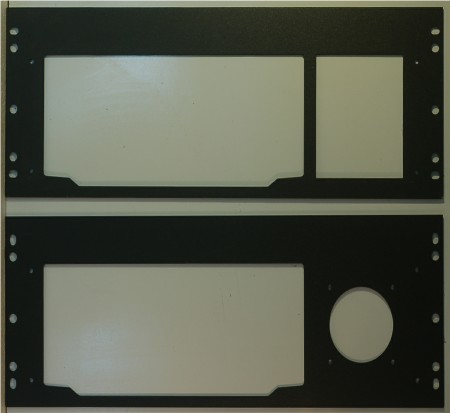 EIA Standards
All of our rack mounts are standard EIA 19" relay rack size. Radio rack panels are usually listed in U units, one U equals 1 ¾" height. You will see most of our racks are 2U, meaning they are 3 ½" high. The larger radios, like the Icom 756 and 746, are 4U or 7" high.
2U = 3.5"
3U = 5.25"
4U = 7"
Since we make 2U, 3U and 4U products we can cover 90%+ of all radios made today but if your radio is larger contact us to discuss how we can make it the way YOU need it.
Front panels
Front panels are made from .125" aluminum and painted or powder coated to a hard-baked finish. The standard color is semi-gloss black, which is complimentary to most radios. The one color exception is the Collins rack mount kits, which is Collins Gray.
Trays
Trays, also known as shelves, for the RM7000 and & RM7100 rack mounts are made of .090" aluminum. The RM75, RM746, RM756 and Collins trays are made of 0625" Paintlok ® steel and will support up to 75 pounds.

Speakers
The speakers we use have a 3" Mylar ® cone that won't distort in humid weather and/or high heat environments. These speakers will handle 5 Watts continuous or 8-Watts peak power, and come with a 6' cord terminated with a standard 1/8" (3.5mm) plug that matches 99% of all radios. We have sold hundreds of these speakers and have never had one reported failure.