Radio Rack Mounts
NovexComm has been producing radio rack mount for the Amateur & Short wave Radio operators and Government markets for the last 15 years.
We make radio rack mounts, in various combinations of single or dual radios or modules and with optional speakers and/or power supplies.
We are adding to our product line all the time, so if you don't see a rack mount for your radio, or a radio configuration you want or need, contact us, we can almost certainly make a quality radio rack mount for you.
Custom Rack Mounts
Many times we are requested to produce a radio rack mount that has not reached the demand to justify a production design and run. These radio rack mounts are known as Custom Rack Mounts. Usually we use our production rack trays and hand make the front panel. There are limits to the size of the radios that are practical to rack mount. For instance The large Icom radio, 761, 781, R9000 size radios are built to the maximum the 19" panel allows with no room for a speaker.
NovexComm at DX Convention 2018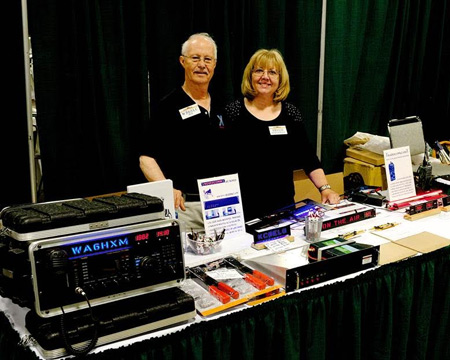 NovexComm at Hamcon 2017
NovexComm at the Dayton Hamvention